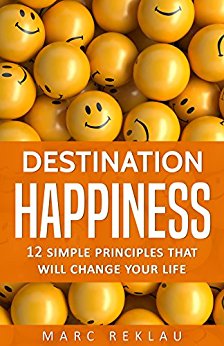 Genre: Self Help & How To
Do you want to finally find work-life balance? Are you constantly feeling overwhelmed and frustrated? Or do you just want to increase your happiness?
In his newest book, bestselling author, Marc Reklau, shows you scientifically proven exercises and habits that help you to achieve a successful, meaningful and happy life.
---
Author Spotlight: Marc Reklau
Marc Reklau is a Consultant, Speaker, and author of 7 books including the #1 Amazon Bestseller "30 Days – Change your habits, change your life", which since April 2015 has been sold and downloaded over 170,000 times and has been translated into Spanish, German, Japanese, Thai, Indonesian, Chinese, Portuguese and Korean. He wrote the book in 2014 after being fired from his job and literally went from jobless to Bestseller (which is the title of his second book). The Spanish version of his latest book "Destination Happiness" has been published by Spain's #1 Publisher Planeta in January 2018. Marc's mission is to empower people to create the life they want and to give them the resources and tools to make it happen.
He writes about habits, productivity, and happiness. His message is simple: Many people want to change things in their lives, but few are willing to do a simple set of exercises constantly over a period of time. You can plan and create success and happiness in your life by installing habits that support you on the way to your goals. If you want to work with Marc directly contact him on his homepage www.marcreklau.com where you also find more information about him. You can connect with him on Twitter @MarcReklau, Instagram, Facebook or on his website www.goodhabitsacademy.com